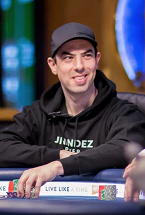 JNandez
Fernando "JNandez" Habegger is a well established Pot Limit Omaha specialist and coach. He started playing in 2006 and then took a job as a poker dealer in order to get closer to the game.
Towards the end of 2010, JNandez made the move from No-Limit Hold'em to PLO. He started playing $0.5/$1 PLO online after investing one third of his $15,000 bankroll to get the best PLO and mental game coaching available at the time.
Since 2011, JNandez has made a profit every year playing mid- and high-stakes PLO cash games and tournaments, with profits ranging from $150,000 to $400,000 per year from playing poker. He's traveled to most of the major live poker stops and established himself as one of top PLO coaches in the game.
In April 2018, JNandez launched the PLO Mastermind on JNandezPoker.com (now PLOMastermind.com) one of the biggest PLO training platforms in the world. His content has helped hundreds of members and students take their game and mindset to a new level.
JNandez has travelled and documented the path to become a PLO crusher, and now offers his roadmap so you can get started in Mastering Small Stakes Pot-Limit Omaha.